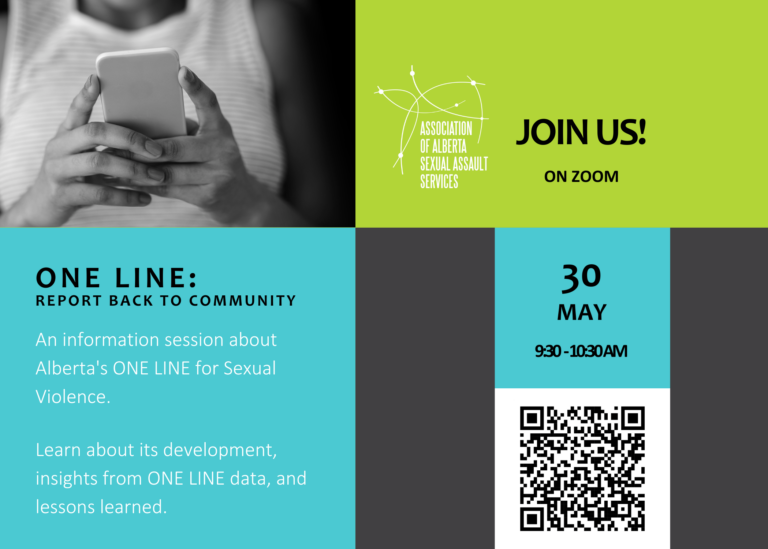 ONE LINE : Report back to Community
An information session about Alberta's ONE LINE for Sexual Violence – a toll-free talk, text, and chat service that provides emotional support, information, and referral to anyone who has experienced or been impacted by sexual violence.
Learn about its development and implementation, service use insights from One Line data, and lessons learned.
Sexual violence in Alberta is a crisis requiring immediate action. A persistent, ongoing increase in demand for specialized sexual assault services spiked in 2017 with a massive culture shift linked to the global #MeToo movement and Alberta's own #IBelieveYou campaign, and increased yet again due to the pandemic.
1.8 million Albertans have experienced sexual violence in their lifetime. The growing number of Albertans asking for help has resulted in wait times for trauma counselling that exceed one year in some parts of the province.  
Any wait is unacceptable and can have devastating impacts on survivors. 
Sexual assault services need adequate and sustainable funding.
We would like to extend our warmest and most positive thoughts to everyone. During these unprecedented times please know that we are thinking of survivors, our member agencies who serve them and our colleagues and partners.
We plan to do our part in maintaining the health of the community, and hopefully this will help with the burden our health system is bearing right now and will continue to bear over the coming months.
AASAS released the key findings of their Prevalence of Sexual Assault and Child Sexual Abuse survey.
These key findings provide insight into the prevalence and nature of Albertan's experiences of childhood sexual abuse and sexual assault throughout their lifetime.
"With an estimated 1.8 million individuals in Alberta experiencing sexual abuse in their lifetime, this research shows us that sexual abuse is a health and safety issue of epidemic proportions" said Debra Tomlinson, CEO of AASAS. "Albertans have a strong history of coming together to help each other in times of need. People who experience sexual abuse are our family members, our friends and our colleagues. And each and every one of us has a role to play in ensuring survivors get support."
AASAS monthly E-News Flash keeps you informed on what AASAS and its member centres/services are doing to raise awareness of issues involving sexual violence, while striving to ensure that all Albertans have access to healing and recovery programs, services and supports.
Use the sign-up form in the footer to receive monthly updates, or browse our past issues.